There's no right or wrong way to SandPlay!
To get a feel for sherlocking, remember what it was like to play with your toys in sand. You were having fun. You were just playing. There were no rules you had to follow.
You were in charge, weren't you?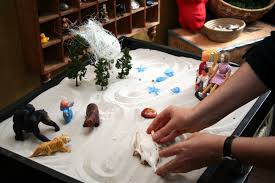 You made decisions. Decisions about what was in, what went where, which animal played with which toy or whatever…
Let's call this SandPlay.
You immersed yourself in your game, because it was a fun thing to do. There was no trying. It unfolded. You were playing, manipulating your toys, anyway you liked.
There's no right or wrong way in WordPlay!
Sherlocking is the ultimate WordPlay! Instead of manipulating toys, you manipulate letters.
And here is something for that kid in you:
It's WordMagic and you are the Magician! How cool is that?
There's no right or wrong way to Sherlock!
The Law of Conservation of Energy says, "Energy cannot be lost, it only changes form."
For instance, the potential energy of water in a dam can be released, turning it into kinetic energy, which rotates the turbine of a generator to produce electricity or electrical energy.
In this example, 'energy' transferred or transformed into three different forms, all with different meanings.
When you sherlock, words change form and may take on different meanings.
For example, by rearranging its letters, T-A-P (tap) becomes P-A-T (pat).
Tapping on a table and patting a table, both make noise. If you turn on a tap you get water. When you pat someone on the back, you give them a compliment or save them from choking.
"What point are you trying to make here?" you might be asking.
The point is:
When you sherlock, it is YOU who is sherlocking and it is up to YOU, to determine how YOU interpret all new word forms or morphs.