When you live a "different" life than most people, you get to see life through a different pair of lenses. Whether you homeschool or are a vegan or walk and bike instead of drive a car, the opportunity arises for you to be outside of the norm and experience, even if it's just a tiny bit, what life is like as a minority.
I'm certainly not comparing life as long-term travelers to those who have suffered the injustices of discrimination due to race or religion, but there are some things that only other traveling families "get" about this lifestyle.
"Lifestyle"
That sounds so strange…yet we have fashioned the life we currently live based on our family's goals, desires and faith. I am thankful for the lessons (good and bad) we have learned along the way.
So, what have been 3 things we've learned on this journey?
1.) It is okay to not know where you'll be 6-12 months from now!
We went from happy Florida residents one day to "frantic sellers of all our stuff so we can take a HUGE leap of faith-ers" the next. We literally had our landlady show up one afternoon with a pie in her hands to tell us she couldn't extend our lease (as we'd planned) and needed to move into her house in THREE months.
3 months + 2800sq ft of stuff + 5 kids + picking a place to live next with only weeks before our departure + transitioning our main business & income source into new hands = CRAZINESS!
But, we did it. We uprooted and left everything familiar to embark on a life of travel experiences to enrich all of our lives. Some people spend years planning and purging. Not us. I think I would have lost my sanity. It was SO hard at times, but I never want to diminish the fact that we did it!
I used to be such a planner. I wanted to know everything as far in advance as possible. There are times when some certainty is nice, but I'm coming to grips with the fact that life isn't always a pretty straight line. There can be good curves and bad ones.Living without a certain level of expectation of how life is going to be can be good!
We started our travels a little less than 7 years ago and I have no clue where we will be in another 12 months. One year ago, we were living in the United Arab Emirates planning to return for another 6 month stay beginning in October 2017.Yet, we are currently living in central Florida.We all consider this location as "home base," which is a very different perspective than "home sweet home."We hold onto our possessions, house included, very loosely and are always open to another adventure.
Only other traveling families and some military families, seem to understand this…we had "these" plans to go "here", but now "that" country looks more appealing and "this" airline has super low fares to "there" right now, yet "which one" to pick? It can be overwhelming and exciting, all at the same time and I am thankful to know that not having a plan "set in stone" is okay!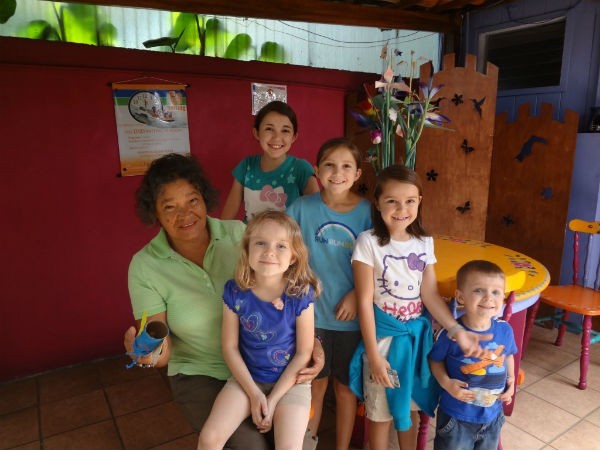 This is my great-aunt saying "Adios!" to the kids days before we left Costa Rica.
2.) Some people will be supportive and continue to love you unconditionally, even if they don't agree with your choice to travel. And others, you continue to love them fully, but don't base your decisions on keeping them happy because, for some, your best is never enough.
This has been a tough lesson to learn. It's only human nature to want those you love the most to support you in the decisions you make, even if they prefer you chose a different path. We have been taking SO many mental notes on how we want to relate to our children as adults and let them always know that we will love them, no matter what, before and after they leave our care.
There will always be naysayers, friends and family who think you must be on the wrong path if you're not on the same path they are on. When you do something so radically different than the norm, some push back is to be expected, but it still hurts.Have a very clear vision of WHY you want to travel and having the support of your spouse and children are critical.I can't imagine undertaking such a monumental task of moving and traveling abroad without having my husband and children on board with it.
My parents have been AMAZING! Not once has my mother (or father, when he was living) nagged or begged or even pleaded to have us come home to visit them…and our kids are their only grandchildren. They would ask what our plans were, but never in a guilt-inducing way. I know it is hard to have us and their beloved grandchildren far away, but we both make the best of it and never tried to make us feel bad for not living close by.
When we've come home from our travels, it has been interesting to see how different people react to what we've done and experienced.Some ask the token question of how our trip went, but we've noticed that most conversations generally stop there.It is unusual and refreshing to get to talk with others who genuinely want to hear about our adventures.It has made us realize that not everyone dreams as big as we do.
3.) Living outside of the USA looks very similar to living IN the USA on a daily basis.
There are some big differences between our life in FL and our lives in Costa Rica, Mexico and the UAE, but from the time we'd wake up until the time our tired eyes closed at night, our daily routine is often quite similar.
We all wake up at different times, all the children (except our little guy) do school work. My husband and I work on our computers. We eat 3 meals a day. The kids laugh until someone hits someone else and tears flow. We make messes…and they usually get cleaned up. We take family walks. We check email. We do chores. I go grocery shopping. This probably looks a lot like your days.
Some days are great days. Others involve late payments from clients that make finances tighter than we'd like. We get sick. We go to church on Sundays. We pay bills.
But, in all of this, when we're abroad, we get to mingle with people from a different culture. Life, as we live it, is NOT a vacation. We do normal stuff every day, but in some pretty cool locations as non-locals. I'm thankful that slow travel affords us the opportunity to live a fairly normal life no matter where we are on this beautiful planet.
Travel is an amazing teacher, and we've learned far more than just these three simple things while living outside our home country. Adventures in foreign lands often show you things you need to learn without realizing how much you needed to learn them. If your family is interested in taking the leap of traveling long term, check out my family travel course on Tapas for Life.
Click on BE OUR V.I.P. and get
Early Notification for my Family Travel Course launching March 25th.